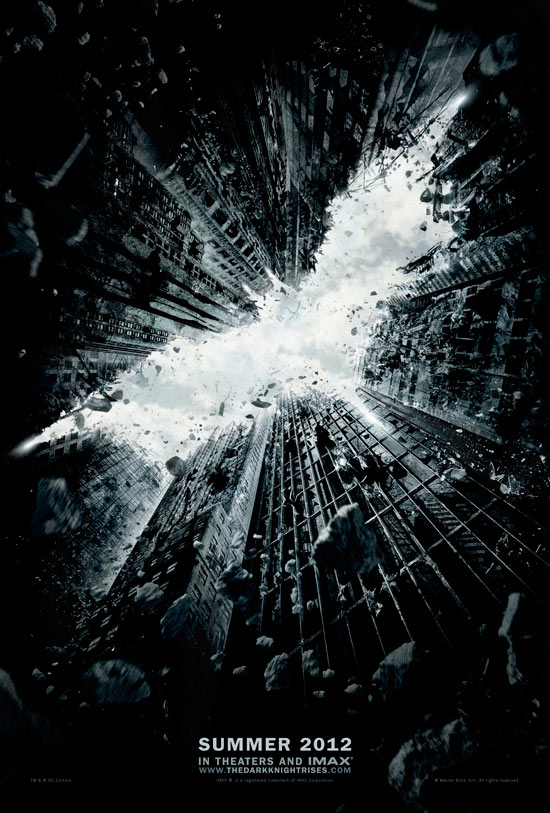 I can't believe I'm actually about to write about this, it's almost unreal. The teaser trailer for The Dark Knight Rises has officially released and it's here for all to see. As it's only a minute and a half long there isn't really all that much to see, though it's comfortably enough to get me ridiculously excited about it.
So, for those of you who are insane and haven't yet watched The Dark Knight, I'm going to ruin the ending for you so that there's a back-story of The Dark Knight Rises. The Joker turned Harvey Dent into Two-Face through his extremely effective manipulation, causing Dent to take Commissioner Gordon's family hostage. The Batman (and yes, it is THE Batman, not just Batman) then has no choice but to take down Dent, though rather than letting the public know that Dent was corrupted by The Joker, he decides to take the fall for the murder of Dent, thus becoming an outlaw and hanging up his costume for good.
Of course, after the terrible death of Heath Ledger it became clear that The Joker would not make an appearance in The Dark Knight Rises, despite various internet rumours suggesting re-casts which would have upset almost everybody and even at one point a digital face grafting rumour appeared, an idea which, for anybody who hasn't seen Tron: Legacy's failed attempt at a convincing young Jeff Bridges, would have upset even more people.
So many people asked which villain would next become "Nolanised". A strong rumour (and one that I hoped would be true) was that of The Riddler, somebody who I'm sure Christopher Nolan could use to his advantage easily, given what he did with the character of The Joker. However, Nolan eventually decided not to go with him, probably because he's too similar to The Joker in many respects. Nolan quickly cancelled out the possibility of Mr Freeze and The Riddler and also dismissed The Penguin as "very difficult to portray", probably because he spends a lot of his time making duck noises and that's slightly (incredibly) childish.
Casting information slowly leaked out also, with news of Inception cast member Tom Hardy being picked up. Some thought he would be cast as Killer Croc or, more realistically, Hugo Strange. Then rumours spread that Anne Hathaway had been cast after a casting session involving the likes of Keira Knightley and Marion Coutillard. The question was who this would be for, most assumed it would be Catwoman.
Eventually it was announced that Tom Hardy had been cast as Bane and that Anne Hathaway had been cast as Catwoman. A lot of people were quite tentative about Catwoman being involved in the film (though that may be largely due to the absolute travesty that was Halle Barry's Catwoman film), though they quickly realised that A) this is Christopher Nolan, he can make anything great, and B) Anne Hathaway in a cat-suit for an entire film. I need say no more.
Bane however was quickly a favourite with many of the fans and after a Wikipedia browse of the character's appearance in the comic books, I became extremely excited by the idea of him being in the film, as it opened up to a lot more endings than the "and Batman lived happily ever after" ending.
Put it this way, Bane is the man who breaks Bruce Wayne's back, rendering him wheelchair-bound and causing a new man to take up The Batman's costume. He has a crippling addiction to a drug called Venom which vastly increases his physical strength but must be administered every twelve hours in order for him to survive and not suffer the side-effects. He's highly intelligent villain who has a photographic memory and self-taught expertise in many scientific disciplines, perfected during his time spent in prison. He's the first enemy of The Batman to discover his secret identity and remains to be one of the few. He's also perfectly sane and always in control of his actions, a trait which seperates him from other villains in The Batman series.
Having read that last paragraph, is it even possible to not be incredibly excited about the prospect of Christopher Nolan bringing this to us? Fans of Nolan will know he loves the psychology of his characters and Bane presents a perfect opportunity for him to do so. Though for some reason, nobody else has been able to bring this sophisticated and psychological character to the screens properly, all of his film portrayals thus far have involved him being nothing more than an inarticulate thug who has little dialogue more than grunting. No doubt Nolan and Hardy will do something about that.
Now, onto the actual trailer itself. The trailer begins with a series of shots (mostly taken from Batman Begins) and text ("Every hero has a journey" and "Every journey has an end") with Liam Neeson's Ras Al Ghul quoted from the first film overhead; "If you make yourself more than just a man, if you devote yourself to an ideal, then you become something else entirely. A legend, Mr Wayne, a legend."
It then cuts to new footage from The Dark Knight Rises itself, which shows Commissioner Gordon lying on a hospital bed, severely injured, barely moving, barely able to speak, with an oxygen mask held near his mouth. He appears to be conversing with an off-screen Bruce Wayne / The Batman, and the dialogue goes as follows:
Gordon: "We were in this together, then you were gone. And now, all this evil rises. The Batman must come back."
Wayne: "What if he doesn't exist anymore?"
Gordon: "He must. He must…"
During the dialogue, the shot from The Dark Knight of the signal for The Batman being shattered is shown, as well as a flickering, out of focus medium-close up of a man who is then revealed to be Bane wearing his mask. After the second of his face, it then cuts to buildings collapsing, revealing the logo portrayed on the teaser poster. The Dark Knight Rises appears over the white background, before flicking to The Batman seemingly staggering back whilst Bane's back comes into view. The text, "The epic conclusion to the Dark Knight legend" cuts into view afterwards, followed by the trailer's ultimate low point. "Summer 2012". It's a sickening reminder that we have to wait a year for what I can almost guarantee will be my favourite film of all time.
The trailer is ridiculously exciting. The only piece of dialogue from the film is awesome and despite the fact that a shot of Bane's face, Jim Gordon on a hospital bed and a brief glimpse of The Batman and Bane together is the only technically new footage we have, it's enough to satisfy our needs. Of course, the fact that there is no mention of Catwoman in the teaser, or any released images whatsoever thus far, begs the question of how big a role she will have in the film, though it is clear that Bane is going to be the big villain of this film.
Christopher Nolan once claimed that this film will be "a technological marvel" and it has since been announced that almost the entire film will be shot in IMAX, though the noise of the IMAX cameras has caused some of the dialogue scenes to be shot in standard cameras. Whether this is what Nolan meant, or if Nolan has something else under his sleeve, we won't know for another year and five days. I'm counting down already, as I'm sure many others are. This will no doubt be the perfect ending to a perfect trilogy.